My Minimo
Perk Foaming Whipped Coffee Body Scrub
DESCRIPTION.
 ✨ ALL NATURAL INGREDIENTS: Perk up your skin with Perk whipped coffee body scrub- a decadent, lathering coffee scrub that hydrates skin, stopping dry patches & flakiness in its tracks.
✨ Perk is crafted with caffeine-rich ground coffee, macadamia nut oil, and gentle brown sugar, making it especially effective when targeting problem areas like cellulite or stretch marks.
WORKS GREAT FOR
Dry Dull Skin
Stretch Marks
Promoting Firmer Skin
Collagen Production
✨  PERFECT FOR ALL SKIN TYPES: Perk has been infused with Organic cane brown sugar, macadamia nut oil, and ground coffee to slough off dead skin cells. Perfect for all skin types!
✨Vegan  
HOW TO USE
For in-shower use. Apply scrub to a sponge. Massage target areas in a circular motion. Rinse clean.
INGREDIENTS
 KEY BOTANICALS & NATURAL COMPONENTS 
GROUND COFFEE + BROWN SUGAR
Helps reduce the appearance of cellulite and promote collagen production to reveal visibly firmer skin.
MACADAMIA NUT OIL
Contains Oleic Acid, which moisturizes, regenerates, dull, dry skin.  
FULL INGREDIENTS
*****Sodium Cocoyl Isethionate, **Sucrose (Pure Cane Sugar), *Coffea Arabica (Coffee), *Sucrose (Dark Brown Sugar), Distilled Water (Agua), Macadamia Integrifolia (Macadamia) Seed Oil, Fragrance (Phthalate-Free), Emulsifying Wax, **Wasabia Japonica (Wasabi) Root Extract, **Zingiber Officinale (Ginger) Root Extract, **Allium Sativum (Garlic) Bulb Extract
✨ WHY MINIMO? Minimo ensures the highest level of product quality with a blend of genuine ingredients that brighten the skin giving it a more healthy and youthful appearance. Our minimalist approach to ingredients protects you from harmful toxins in traditional skincare face masks.
✨ All of our products are created by our team in Houston, Texas, USA to ensure the highest level of product quality, and we conveniently ship worldwide. 
Customer Reviews
Write a Review
Ask a Question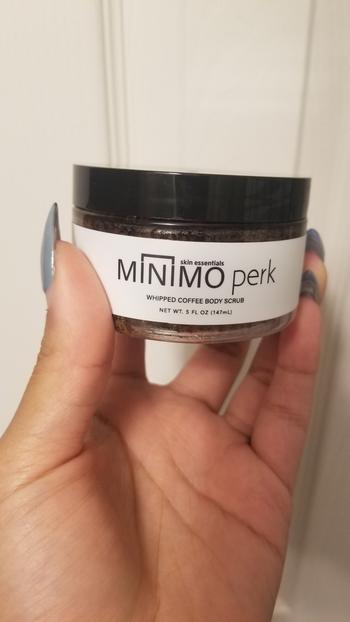 29/05/2020
Whipped Coffee Body Scrub
Smells amazing and leaves your skin feeling soft to the touch!
22/07/2019
Best Skin Care Product!
I usually use products from department stores, easier and convenient. They usually make my skin feel more tight, dry, and dehydrated. Granted, I don't have a significant before and after, but the feeling of my skin has changed dramatically since using Minimo (February 2019) earlier this year until now. I just started using the 'Whipped Coffee Body scrub' and have seen a significant difference just the couple times I've used it, it softens my skin overall and helps take off dead skin, I use it on my shoulders, elbows, stomach, butt, legs, & knees and it leaves an amazingly soft feeling afterwards, (not to mention, it smells heavenly!). It's everything I hoped for and I recommend to anyone dealing with dry, uneven skin to try it out, for that price, you can't beat it!
We're so grateful that you took the time to share your feedback with us. It's our pleasure to serve customers like you. Have a wonderful day!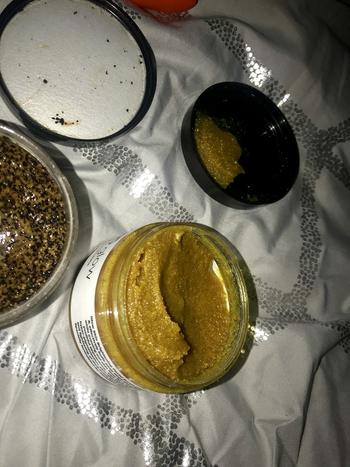 29/04/2019
Coffee scrub
This scrub feels and smells so good. It leave my skin feeling soft to the touch and hydrated. Also noticed a Little lighting of dark spots. Been using for 3 weeks so far.
07/06/2022
Mocha Latte
I love this product! It smells amazing, scrubs and lathers well leaving the skin clean, refreshed, and soft to the touch. I would definitely purchase again.
Frankesha E.

United States
27/12/2021
Love the smell of coffee
I am noticing a difference with my dark elbows. I see that they are getting their normal coloring back. I've only been using this product for 2 weeks now. It really works!
Kenya S.

United States