I no longer use foundation
"My Skin 'IS' My Foundation"
Those are NOT our words but the words of Naturals like you.
Naturals who have gone their entire life with acne scars but now have a clear face that looks and feels healthy.
Naturals are going from feeling uncomfortable to wear makeup to supple soft skin that brightens up a room.
Naturals with hyperpigmentation and constant breakouts now have a natural glow in as soon as 2 weeks. And friends and family are noticing too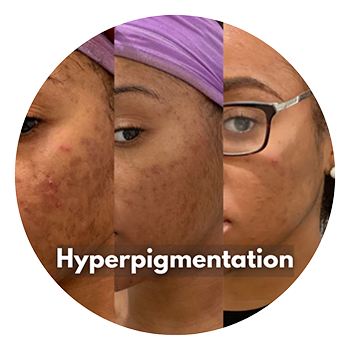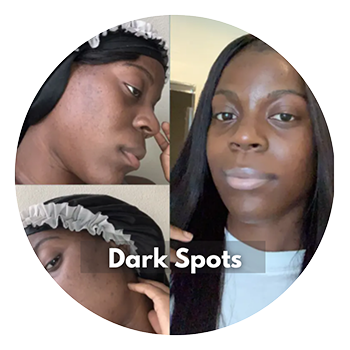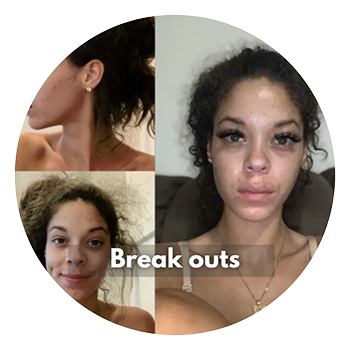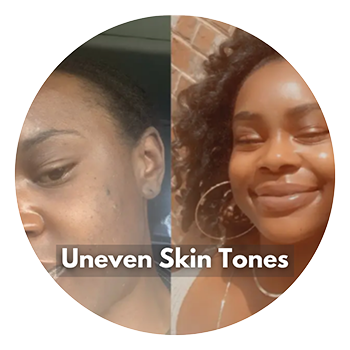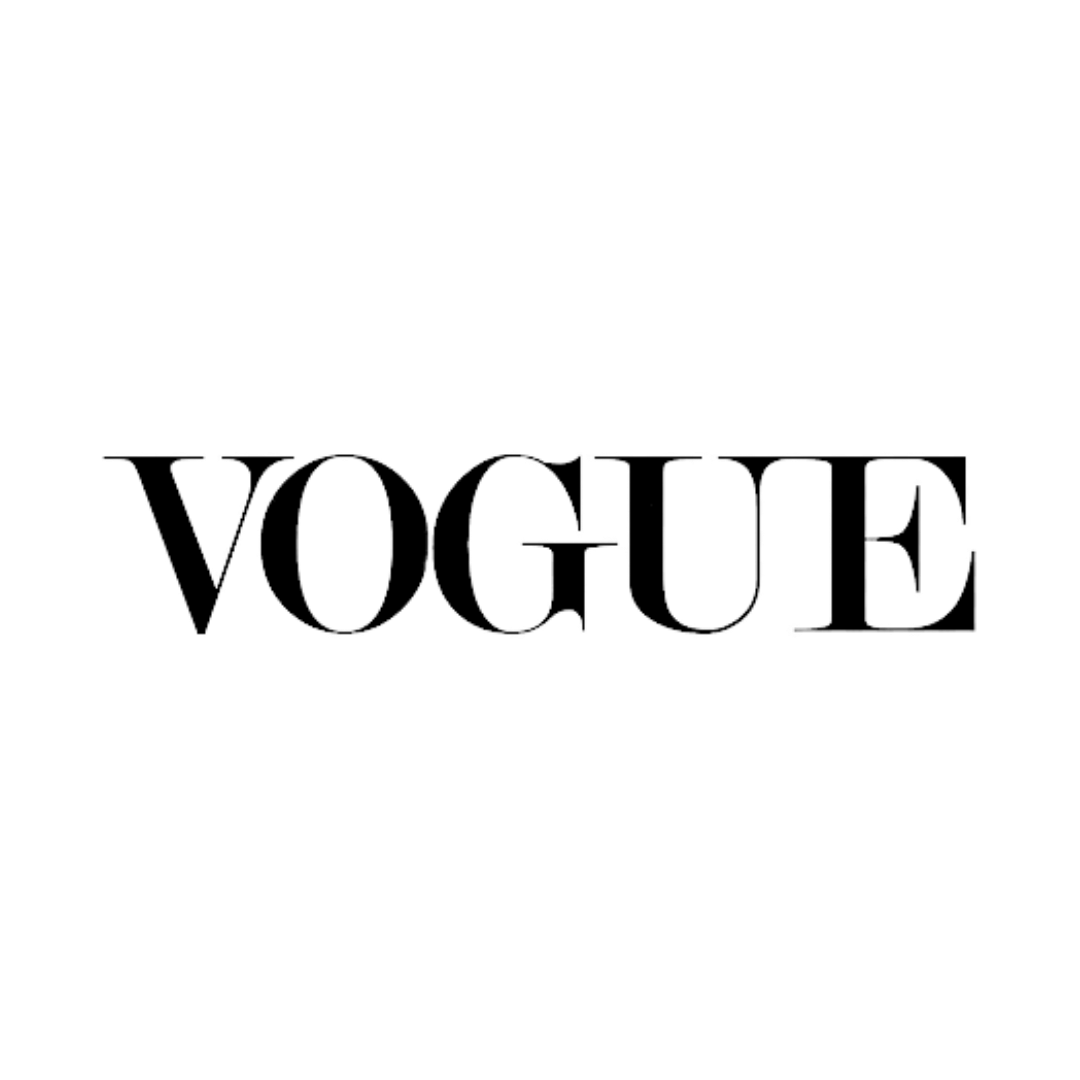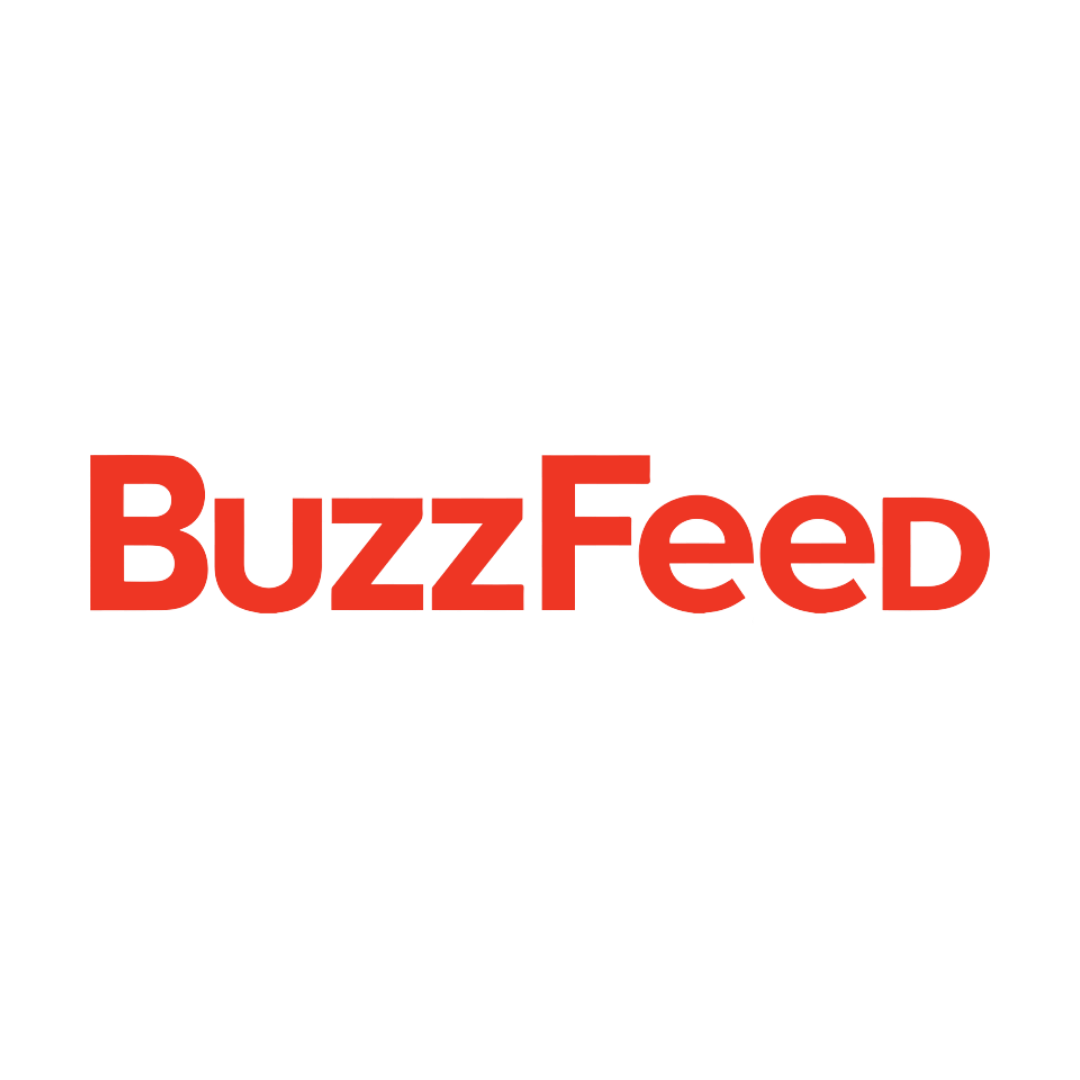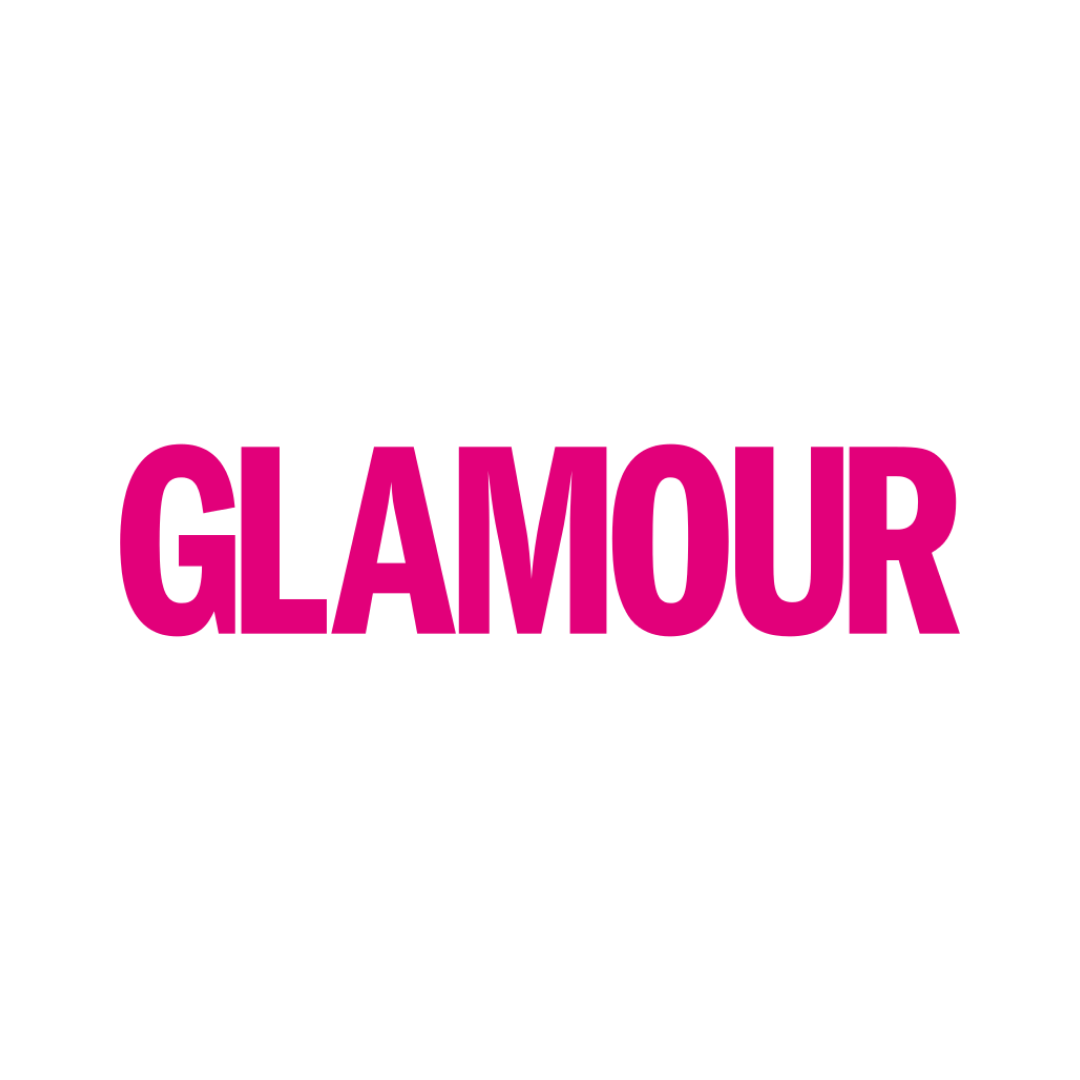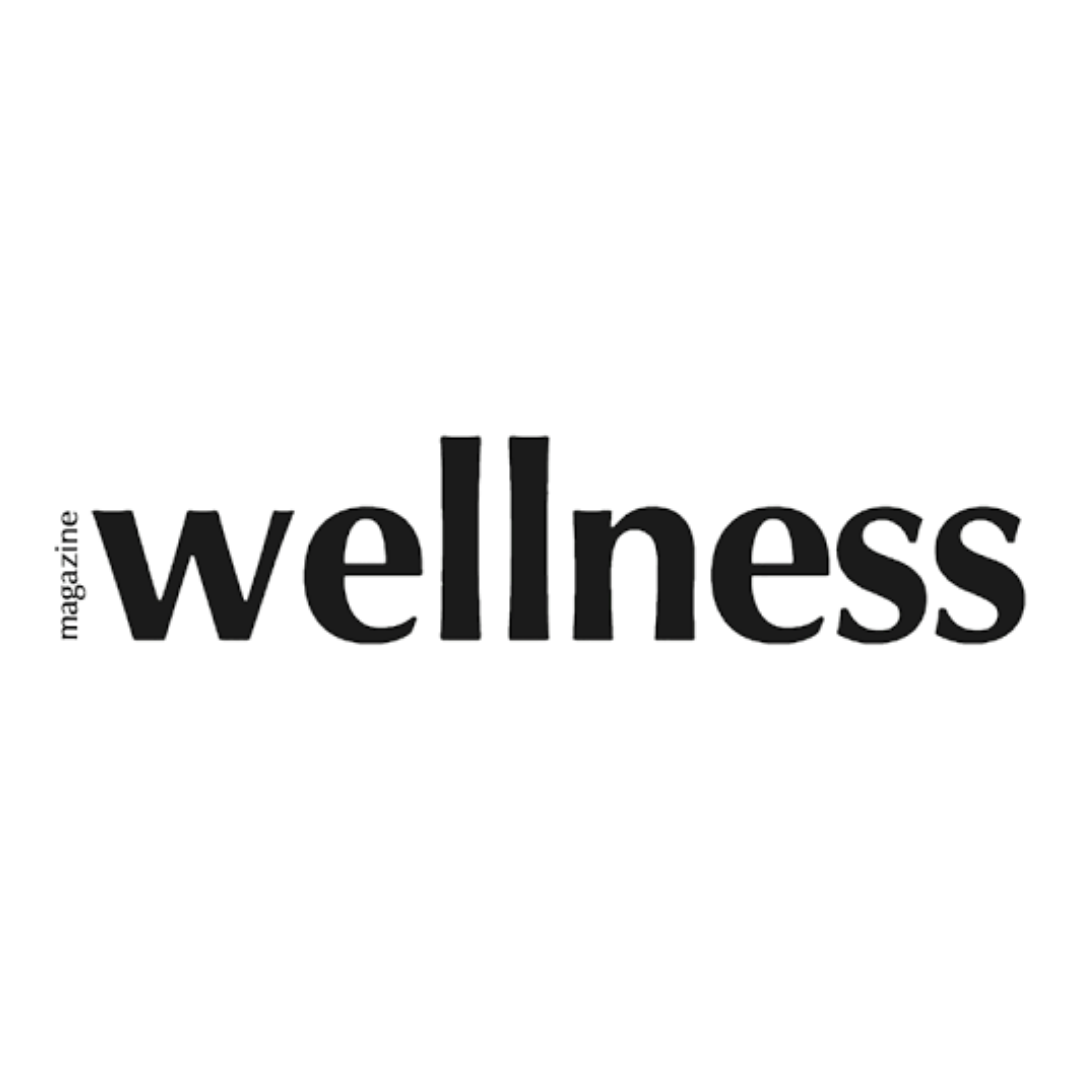 I Tried Everything To Get
My Face Looking & Feeling Better
I was desperate for a solution that was safe to use while I was nursing.
I began researching skincare solutions from natural ingredients in an effort to solve hyperpigmentation after childbirth.
I wanted clear skin, but not at the expense of toxic ingredients that could affect my ability to nurse my son.
The questionable ingredients of products available at the time did not sit well with me.
I knew there had to be a better way.
This is what led to creating these products Naturals love.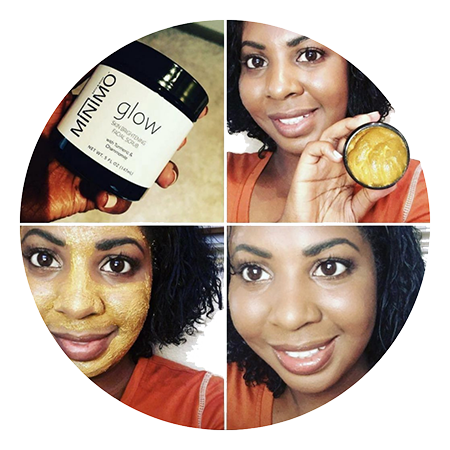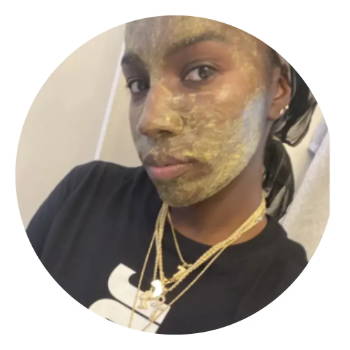 ⭐️⭐️⭐️⭐️⭐️
Keeps my melanin GLOWING!!! I've been using this product as instructed daily, and I love it so much! I've been trying different products for years to clear up my dark spots from high school, and not much has worked for me. Another big thing for me was finding something that didn't have too many harsh chemicals. I've been trying to push for really natural products and then I found Minimo. It leaves my skin really soft and moisturized throughout the day. They definitely have a lifetime customer in me. And I highly recommend it
— Kae
The Glow Pack is a Life Changer
Each ingredient is natural and has earned its way there to:
➡   Exfoliate and brighten discoloration on your skin's surface.
➡   Target dark spots with a concentrated leave-on nutrient serum.
➡   Moisturize your skin all day long
➡   Calm inflamed, irritated skin and speed up the healing process.
➡   Easily absorb into your skin without oily residue while locking in moisture.
➡   Balance skin tone for a more vibrant radiant youthful look.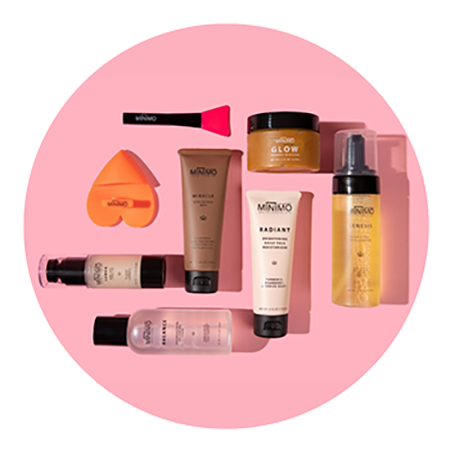 The Perfect Routine To Keep Your Skin Glowing
Brighten dark spots, clear acne scars, and go from dull-looking skin to soft, supple, natural glowing skin with this simple routine.
For the "Glow Starter Kit" use Step 2, Step 4, and Step 5For the" Glow Bundle" use Step 1 - 6
Step 1: Pump Genesis Foaming Cleanser into your hands and work into a foamy lather. Massage lather onto face with a gentle circular motion, avoiding eyes. Rinse with lukewarm water and pat dry. Use up to 2 times per day.
Step 2: Massage a dime-sized amount of the Glow Skin Brightening Face Scrub onto damp skin in a gentle, circular motion. add additional water to spread evenly. Leave on for up to 10 minutes. Rinse clean and pat dry with a dark-colored towel to avoid staining. Use up to 2 times per day.
Step 3: Saturate a cotton pad with Balance Skin Brightening Toner. Sweep across face, neck, avoiding eye area. Let dry before proceeding. Use up to 2 times per day.
Step 4: Massage 2 pumps of the Lumen Dark Spot Corrector into the skin in a circular motion for an overall application. Let sit for 5 minutes, then massage fully into the skin in a circular motion until fully absorbed. Use up to 2 times per day
Step 5: Apply a pea-size amount of the Radiant Moisturizer to clean your face & neck in a circular motion until fully absorbed. Use up to 2 times per day
Step 6: Apply a thin layer of the Miracle Mud Mask to clean skin avoiding lip and eye area. Leave on for 15 - 20 minutes. Remove with warm water in a circular motion. Use 1-2 times a week.
Naturals Say: "Minimos Glow Is The Way To Go"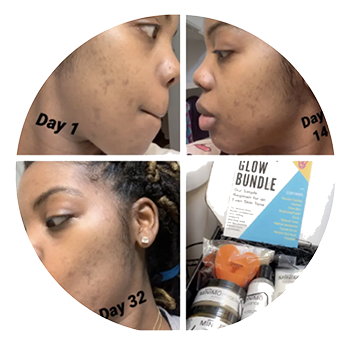 ⭐️⭐️⭐️⭐️⭐️
1st I want to applaud the company for good customer service. Although I didn't need to reach out to them with any issues, they immediately contacted me after placing my order with information on tracking my shipping and if I had any questions. Shipping was fast and my package arrived intact. The bundle box is super cute and I am all about presentation. The products are placed neatly with a handy instruction card insert. I purchased the glow bundle box in an attempt to fade dark spots. I like all of the products in this bundle with my favorite being the scrub and the toner.
— O R.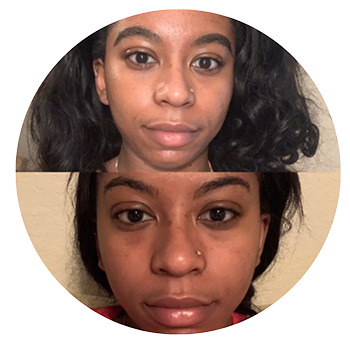 ⭐️⭐️⭐️⭐️⭐️
I have never been able to have that healthy skin glow without looking too oily. The Glow Starter kit has absolutely changed that for me. My skin is soft, smooth, and my dark spots have faded tremendously in just 2 weeks! I haven't seen my face look this healthy in so long, I am a customer for life!
— Tyler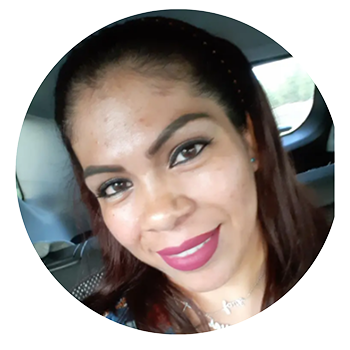 ⭐️⭐️⭐️⭐️⭐️
Love these products. Before finding these miracle scrubs I was devastated looking for something that will help clear my acne and at the same time moisturize my face. Thanks to these miracle scrubs. My face feels and looks a lot healthier....
— Veronica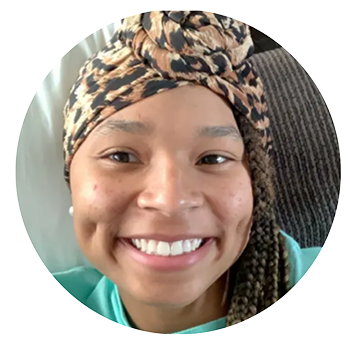 ⭐️⭐️⭐️⭐️⭐️
I purchased this product BEYOND skeptical about what it could honestly do for ME and MY dark spots but babaaaaaay! when I tell you how blessed I am for this product and the hands that prepared it ❤️️❤️️! It really is working
— Auset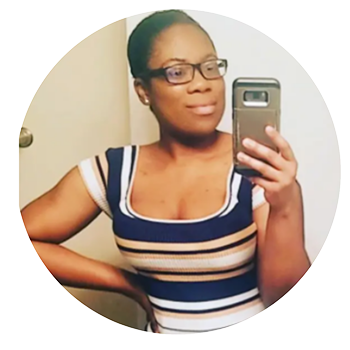 ⭐️⭐️⭐️⭐️⭐️
I've been using this product for about a month now and it's amazing! I used to use different cleaning and clearing face products because I have really sensitive skin and oily too so my face always had bumps that lead to scarring. And it made me so uncomfortable that I used makeup daily to cover the scars. But guuuuurrrllll...let me tell you lol, I wore make-up twice within the month because I actually didn't need it. Everyone around me has noticed the difference and I'm sticking to this product.
— Sandrine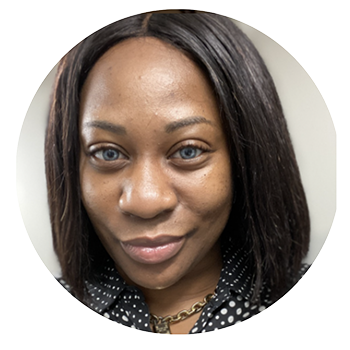 ⭐️⭐️⭐️⭐️⭐️
The glow starter pack has absolutely transformed my face in a short amount of time. The glow is quite noticeable. My face is left refreshed. And the hyperpigmentation on my cheeks is slowly diminishing. I am absolutely happy with the glow starter pack. Also want to add that if once scrub is washed from the face, use a cotton pad with witch hazel as a toner, you won't have to worry about staining any towels.
— Keisha
➡ Glow Facial Scrub
➡ Lumen Dark Spot Corrector
➡ Radiant Moisturizer
➡ Glow Facial Scrub
➡ Flawless Charcoal Scrub
➡ Daily Facial Serum
➡ Radiant Moisturizer
➡ Miracle Mud Mask
➡ Genesis Foaming Cleanser
➡ Glow Facial Scrub
➡ Balance Toner
➡ Lumen Dark Spot Corrector
➡ Radiant Moisturizer
➡ Miracle Mud Mask