Flawless Charcoal Face Scrub Combo
Flawless Charcoal Face Scrub Combo
COMBOFLAW__SHOP
DESCRIPTION
✨ ALL NATURAL INGREDIENTS: Flawless Charcoal Facial Scrub is a rich, exfoliating blend of activated carbon charcoal and nourishing botanical extracts that help deeply cleanse & maintain healthy, clear skin. Specially formulated for breakout-prone skin. 
WORKS GREAT FOR
All Skin Types.
Sensitive Skin.
✨ PERFECT FOR ALL SKIN TYPES:  Flawless Charcoal Face Scrub contains Bamboo Charcoal which acts like a magnet to attract and absorb dirt and oil. Perfect for all skin types and wonderful for clearing out deep-seated blackheads or clogged pores.  
 HOW TO USE
 ✨ Using the Scrubbie Applicator, massage a dime-sized amount onto damp skin in a gentle, circular motion. Add additional water to spread evenly. Leave on for up to 10 minutes. Rinse clean and pat dry with a dark-colored towel to avoid staining. Use up to 2 times per day. 
INGREDIENTS
KEY BOTANICALS & NATURAL COMPONENTS 
BAMBOO CARBON CHARCOAL. 
Astringent that helps shrink pores, soothe skin & reduce inflammation. 
WILLOW BARK. 
The natural form of salicylic acid & exfoliator, beneficial for breakout-prone skin. 
GINGER. 
Promotes rapid cell turnover from acne scars and spots.
VITAMIN B5. 
Stimulates the skin's natural ability to heal and renew itself.
FULL INGREDIENT LIST
**Sucrose (Pure Cane Sugar), ***Vegetable Glycerin, *Butyrospermum Parkii (Shea Butter), ****Raw Manuka Honey, Behentrimonium Methosulfate (And) Cetearyl Alcohol (Vegetable Based Conditioner), *Cinnamomum Verum (Cinnamon) Powder, **Wasabia Japonica (Wasabi) Root Extract, **Zingiber Officinale (Ginger) Root Extract, **Allium Sativum (Garlic) Bulb Extract, Phenoxyethanol (and) Caprylyl Glycol, Aloe Barbadensis (Aloe) Infused Distilled Water, Salix Alba (Willow) Bark Extract, Ricinus Communis (Castor) Oil, Activated Charcoal, Carthamus Tinctorius (Safflower) Seed Oil, Dl-Panthenol (Vitamin B5), *Melaleuca Alternafolia (Tea Tree) Leaf Oil, Phenoxyethanol (and) Caprylyl Glycol 
✨ WHY MINIMO? Minimo ensures the highest level of product quality with a blend of genuine ingredients that brighten the skin giving it a more healthy and youthful appearance. Our minimalist approach to ingredients protects you from harmful toxins in traditional skincare face masks.
✨ All of our products are created by our team in Houston, Texas, USA to ensure the highest level of product quality, and we conveniently ship worldwide. 
Customer Reviews
Write a Review
Ask a Question
Filter Reviews:
skin
breakouts
moisturizer
Lumen
blemishes
wonders
Glow
charcoal scrub
scrub
15/11/2021
Tiphani L.

United States
30/09/2021
Larissi J.

United States
Flawless for Sure
I tried the tumeric based scrub, the Lumen and daily moisturizer first and it definitely worked wonders on my skin. Blemishes are fading. Skin has a glow and I've been getting less *********. So I'm trying the charcoal scrub to maintain it all and I love it so far!! I would recommend.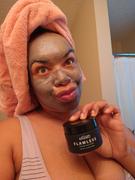 18/05/2021
Shantae J.

US
My face is starting to
My face is starting to clear up after a couple of weeks of it.
18/05/2021
La F.

US
Teenager
I bought this for my daughter who is recently getting acne. She likes using it. She still has ********* but it's only been a few weeks of use.
19/03/2021
Arlaena W.

US
Works wonderful and leaves my
Works wonderful and leaves my skin smooth